history
Lily of the valley light installation of start
Formation of Otesuji shopping street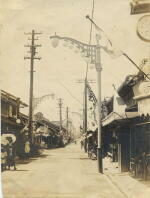 Those who pass in the big enterprises shopping street increase remarkably by the rise in population, the progress in transportation, the development of the brewing interest, and development as the industrial zone, etc. , and the time when it tries to improve a shopping street character has come.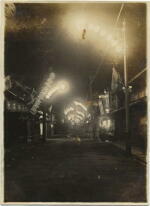 A lot of contributions were obtained, about 30 street light was set up, and the formation as the shopping street was established.
This street light received a fevoreble reception as a special product of Otesuji because of the design to which five lamps by which the lily of the valley had removed the flower pattern had gone on.