history
Some transitions are got over.
Development and transition of Otesuji shopping street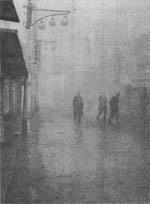 Otesuji with the character as the shopping street according to the lily of the valley light form the prosperity association, unite, and have advanced.
Afterwards, the time of being revive the street light in the ten years comes, and 38 street lights that install the angle in the wooden pole are set up though the lily of the valley light disappeared by the iron delivery by the Pacific War.
Big enterprises at night have regained light.